| | | |
| --- | --- | --- |
| contact@cwa.org.sg | +65 6466 7957 / 96 | +65 6466 5927 |
Dementia Early Intervention programme


Dementia is a chronic, progressive deterioration of mental function
typified by loss of memory. It is prevalent and often overlooked
among the elderly, especially in Singapore's ageing population. In
2005, there were 22,000 elderly (65 years and above) with dementia
and this number is projected to increase to 53,000 by 2020.*
Clues to the presence of dementia may be subtle and nonspecific,
and unrecognised early dementia may tend to worsen over time.
ChannelNewsAsia has covered this widely such as through their
Facing Dementia
programme.
For healthy elderly, it is vital to have early intervention to slow the progress.
For elderly who have received
a diagnosis of dementia, a life-changing transition needs to take place.
Hence, our Dementia Early Intervention
Programme is a form of early
therapeutic intervention for
elderly wanting to live a healthy lifestyle, or for currently elderly who are living with dementia. You may find out more about our programme
through taking a
look at our brochures to find out more:
To sign up, please drop an e-mail to contact@cwa.org.sg and we will respond promptly!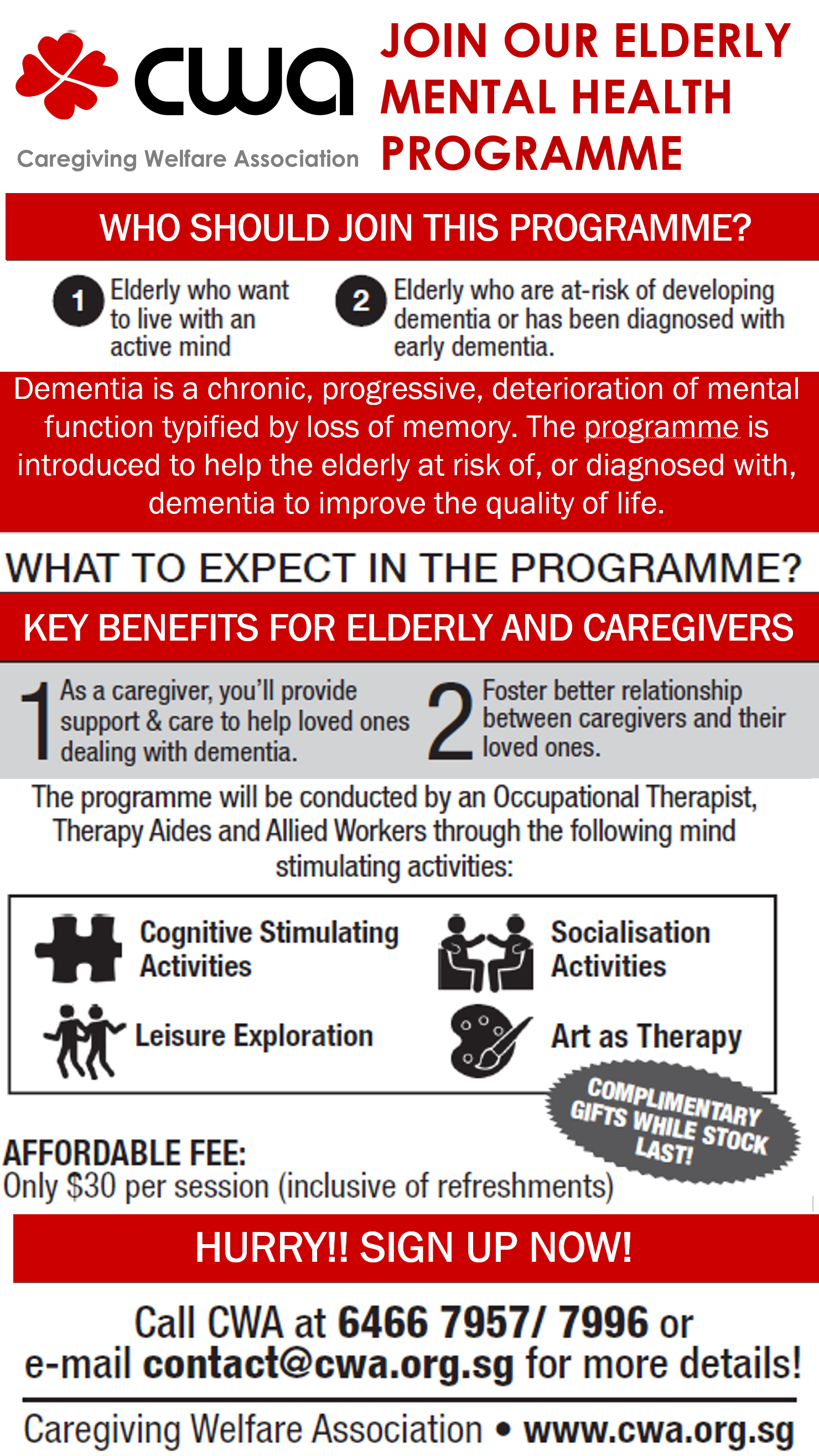 Why Early Intervention?
Early intervention includes providing support and care to help them
deal with the challenges of their diagnosis and to aspire them towards
a meaningful and positive life. Caregivers would also be well-informed
on how to cope and the type of help available to them.
Hence, the Mind-Able is introduced to help the elderly at risk or
diagnosed with mild dementia.
The Mind-Able programme aims to:
• Improve quality of life for the elderly
• Increase ability to communicate and socialisation
• Alleviate caregivers stress

Healthy Elderly Group
8 Sessions/Once Per Week*
Pre-Launch Offer:
$30 PER SESSION
Usual Price: $33 PER SESSION
At-Risk/Mild Dementia Group
8 Sessions/Twice Per Week*
*Upon completion of the sessions, you may continue to sign up for more sessions.