| | | |
| --- | --- | --- |
| contact@cwa.org.sg | +65 6466 7957 / 96 | +65 6466 5927 |
Caregiver Support Group

As part of the Caregiving Welfare Association (CWA) efforts to reach out to family caregivers, we encourage family caregivers to join us at our monthly caregiver support group sessions.
Very often, caregivers are unaware of where to seek assistance from, many individuals end up
bearing the heavy burden of looking after their loved ones themselves
and suffering in silence. This affects them emotionally, physically and
mentally – resulting in caregiver burnout at the end of the day.
We believe that there are many benefits which caregivers could gain from by participating in such group work. For example, individual

gains mutual

support from one another, and through the sharing of personal experiences, one could learn how to manage or even overcome such

struggles eventually.
CWA currently runs two caregiver support groups for caregivers to connect with one another. The art therapy support group session is conducted by our Art Therapist, Ms Jeanette Chan, and it will be held once a month on a Saturday morning from 9.30am to 11.30am. As for the mindfulness-based support group session, it will be conducted by Ms Erin Lee (Mindfulness Coach) once a month on a weekday from 2.30pm to 4pm at CWA HQ located at Blk 3, Ghim Moh Road.
Participants can look forward to activities which are focused on the following:
An avenue for caregivers to share information and experiences




For family caregivers to feel connected with one another and hear how others have coped with similar difficult situations




To enable family caregivers to express their emotions in a safe haven without the fear of being judged



Profile of Ms Jeanette Chan (Art Therapist)
Jeanette has eight years of experience in working with children. She is trained in Trauma-informed expressive arts therapy from Trauma-Informed Practices & Expressive Arts Therapy Institute. Besides journeying with young trauma survivors, people undergoing cancer rehabilitation, Jeanette also serves people with special needs (e.g. elderly with dementia, children and youth with learning disabilities). She was the President of the Art Therapists' Association Singapore (ATAS) and an activist in advocating art for mental well-being. She has contributed articles in various art therapy publications, newsletters, and has been conducting workshops in conferences, schools, communities, government bodies and corporations.
Profile of Ms Erin Lee (Mindfulness Coach)

Erin is the Founder and Mindfulness Coach of Mindful Moments Singapore. She is a Certified MBSR Teacher as acknowledged by the Mindfulness-Based Professional Training Institute (MBPTI) of the University of California San Diego (UCSD) Center for Mindfulness to conduct and deliver the classic Mindfulness Based Stress Reduction (MBSR) Program. Erin also holds a Master of Science degree in Studies in Mindfulness with the University of Aberdeen, UK and is a Professional Certified Consultant in Stress Management. She had conducted mindfulness training for many government agencies like Economic Development Board and People's Association as well as Health institutions like KK hospital and Singapore Medical Council.

Caregiver Support Group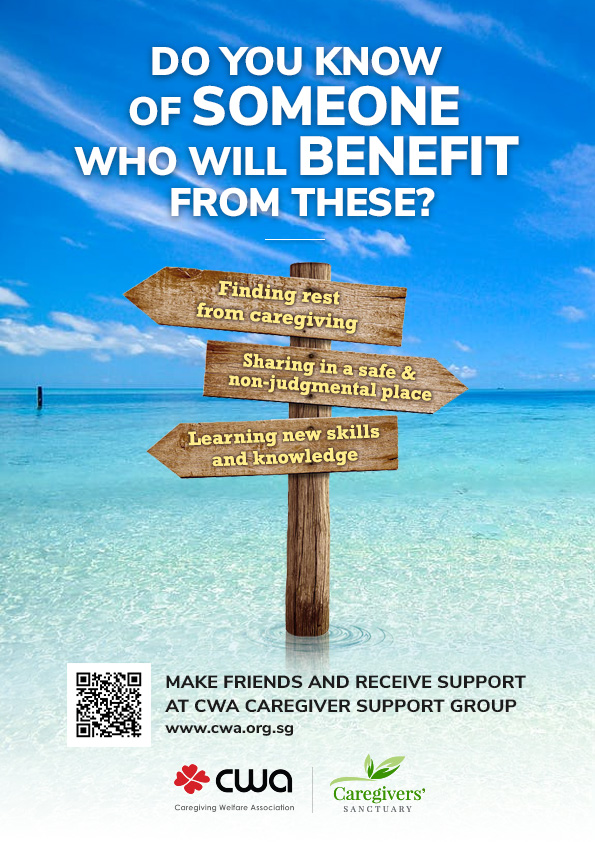 _____________________________________________________________________________________________________________

How to register?

The Caregiver Support Group welcomes all family caregivers to join us. For registration-related enquiries, please contact us at 6466 7957/ 6466 7996/ 6734 2991 or email contact@cwa.org.sg.
You may also give consent for a representative or service provider to make the referral for you.

Registration fee

Registration fee is at $15 per session (inclusive of light refreshments). Means testing will be used to assess clients who may be facing financial difficulties.
Note: We offer attendees an option to attend the support group sessions via Zoom platform.
Schedules

Please email contact@cwa.org.sg for more information.