| | | |
| --- | --- | --- |
| contact@cwa.org.sg | +65 6466 7957 / 96 | +65 6466 5927 |
Join Our Passionate Team
Community Home Care Nurse (RN) (closing date for application 31 Mar 2018)
Job Description
- Strategise, develop, manage and co-ordinate patients' home care plans
- Case and care management on health issues of the patients
- Supervise and manage a team of formal caregivers for the patients' home personal care services, including clinical assessment for patients
- Work with the multi-disciplinary team to provide symptom management, direct nursing care, psychological and emotional care to the patients and their families
- Conduct home and hospital visits to provide home-based needs assessment and coordinate care services
- Provide direct nursing care whenever necessary
- Conduct eldercare training for family caregivers and volunteers
- Conduct in-house and external health talk, health screening and wellness programmes
- Provide patient care evaluation and case reports
Requirements

- Registered Nurse with the Singapore Nursing Board
- Experience in home nursing care and working in senior care setting or geriatric a plus
- Computer literacy
- Able to work independently and as a team
- Bilingual and dialect speaking preferred
- Singapore Citizen & Singapore PR
If you are keen, please
e-mail us your resume
with your photograph to contact@cwa.org.sg
Medical Social Worker/ Social Worker
(closing date for application 22 Mar 2018)
Job Description
- Provide case management and psychosocial assessment to seniors and their caregivers
- Plan, develop and implement programmes according to the needs of the seniors/caregivers
- Conduct Home and Hospital visits
- Work closely with multidisciplinary team of healthcare professionals
- Conduct educational talks and workshops targeting at the community, corporations and education institutions
- Network and liaise with stakeholders, relevant agencies, and organisations regarding to the welfare of the seniors and their caregivers

Requirements
-
Must have a Degree or Post Graduate Diploma in Social Work
- Registered with the Singapore Association of Social Work
- Minimum 2 years experience working in the social service sector, preferably in the senior care sector
- A team player and able to work independently
- Possesses good attitude with good interpersonal and communication skills
- Billingual and dialect to liaise with dialect speaking client
- Proficient in Microsoft Office
- Singapore Citizen & Singapore PR

If you are keen, please
e-mail us your resume
with your photograph to contact@cwa.org.sg



Counsellor (closing date for application 22 Mar 2018)

Job Description
-
Provide case management and counselling services to elderly and their caregivers
-
Plan, develop and implement programmes according to the needs of the seniors/caregivers
- Conduct Home and Hospital Visits
- Provide information and referral services to the clients
- Conduct educational talks and workshops targeting at the community, corporations and educational institutions.
- Network and liaise with stakeholders, relevant agencies, and organisations regarding the welfare of the clients and programmes

Requirements
- Must have a Masters in Counselling
- Registered with the Singapore Association for Counselling
- Minimum 2 years experience working in the social service sector, preferably in the senior care sector
- A team player and able to work independently
- Possesses good attitude with good interpersonal and communication skills
- Billingual and dialect to liaise with dialect speaking client.
- Proficient in Microsoft Office

- Open to Singaporeans and PR only
If you are keen, please e-mail us your resume with your photograph to contact@cwa.org.sg
Locum Occupational Therapist/ Occupational Therapist
(closing date for application 30 Apr 2018)

Job Description
- Perform registration of new clients/patients
- Assess, plan and develop appropriate treatment plans for clients/patients referred for occupational therapy
- Comply with clinical and service standards
- Conduct Home and Hospital Visits
- Conduct public education talks whenever necessary
- Network and liaise with relevant agencies and organisations regarding the welfare of clients/patients and programmes
- Support and coverage other team member(s)

Requirements
- Recognised Degree/ Diploma in Occupational Therapy (preferably recognised by the Allied Health Professional Council)
- Minimum 2 years of working experience in a hospital or daycare setting
- Keen interest in geriatric rehabilitation, dementia and stroke
- A team player and able to organise and execute programmes
- Possesses good attitude with good interpersonal and communication skills
- Bilingual and dialect speaking preferred

If you are keen and available, please e-mail us your resume to contact@cwa.org.sg
Community Caregivers (on going recruitment)

Job Description

- Provide personal care, grooming, and hygeine services to the elderly (bathing, toileting)
- Assist in Activities of Daily Living (ADLs)
- Medication reminders
- Medical escort for the elderly medical appointment
- Engage the elderly in simple exercises and recreation activities.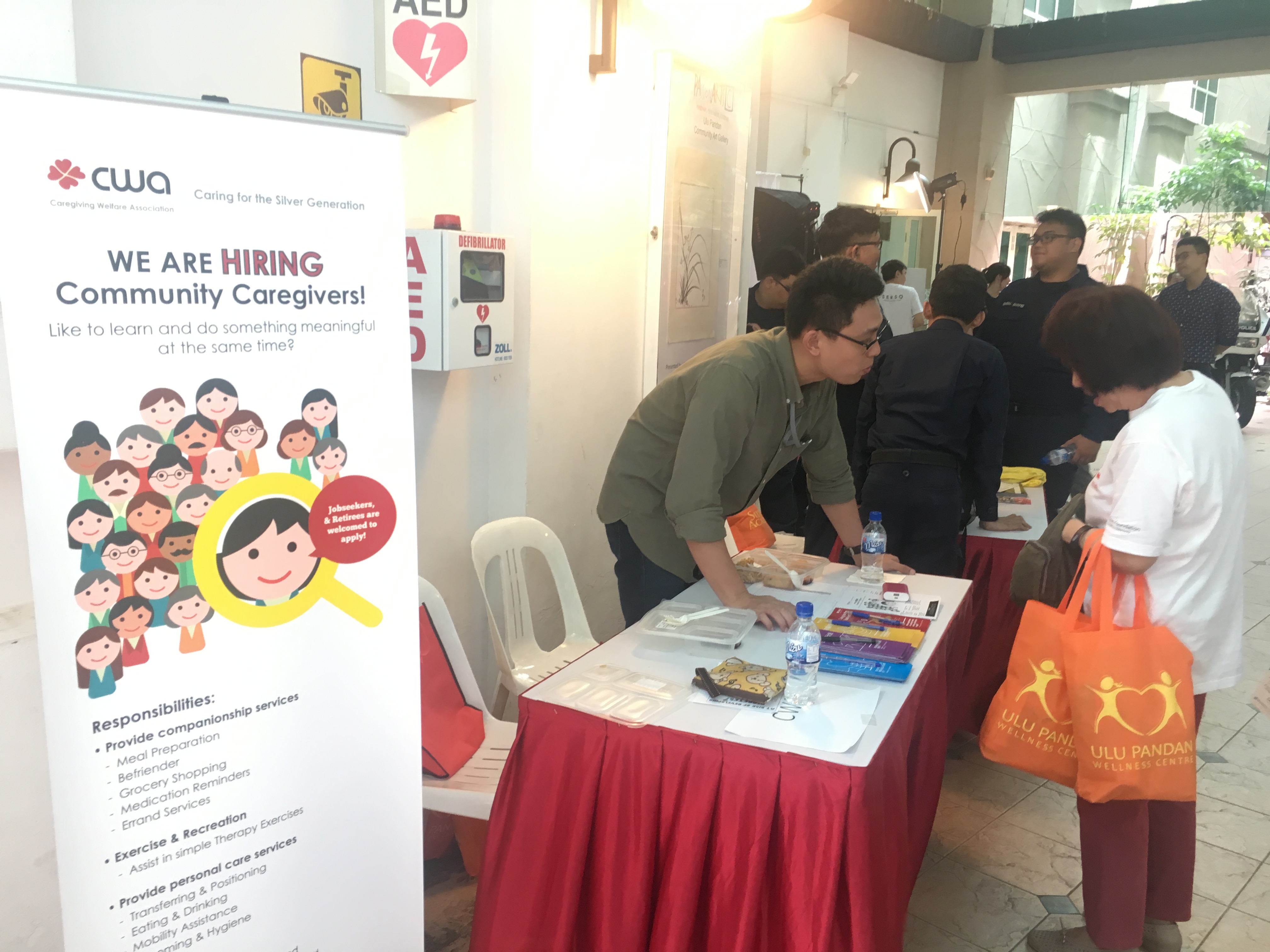 Requirements
-
NO
prior experience is required
- On-the-job training will be provided
- Minimum PSLE qualification
- Flexible working hours
- Singapore Citizen & Singapore PR


Those who have WSQ certificate in healthcare support (Nursing Care) are welcome to apply
If you are keen, please contact us at 6466 7996 or 6466 7957 for more information. Alternatively, you may e-mail us your resume with your photograph to contact@cwa.org.sg
Senior/Therapy Aide (position is closed)

Job Description
To engage active/mild dementia seniors in cognitive stimulating activities- To plan and co-facilitate group sessions- To interact and engage with seniors in meaningful conversations
Requirements:
- Able to communicate in English (Ability to communicate in Mandarin Dialects and Bahasa Melayu is advantageous)
- Pleasant personality and a team player
- No experience is required
- Graduates with a WSQ certificate in Health Care Support may apply.
If you are keen and available, please call us at 6466 7957 or e-mail your resume to contact@cwa.org.sg