| | | |
| --- | --- | --- |
| contact@cwa.org.sg | +65 6466 7957 / 96 | +65 6466 5927 |
Raising Awareness 
CWA runs Education and Awareness programmes to increase public awareness on healthy ageing and equip the elderly with adequate knowledge on ageing gracefully.
The programmes we organise for the community include:
-Corporate Lunchtime Talk Series (
Health and Eldercare-related topics)
-Inter-generational Programmes
Corporate Lunchtime Talk Series
As part of Caregiving Welfare Association's continuous efforts in reaching out to corporations, CWA is offering an array of interesting lunchtime talk topics for employees. The topics will range from mental health to chronic illnesses.
Should you be interested in this talk series, please feel free to contact CWA at 6466 7996 or email contact@cwa.org.sg to find out more about the charges.
Inter-generational Programmes
Our Inter-generational Programmes provide a way for the young and young-at heart to learn about the importance of caregiving and contribute back to society. The activities comprise of Community Service and Service Learning.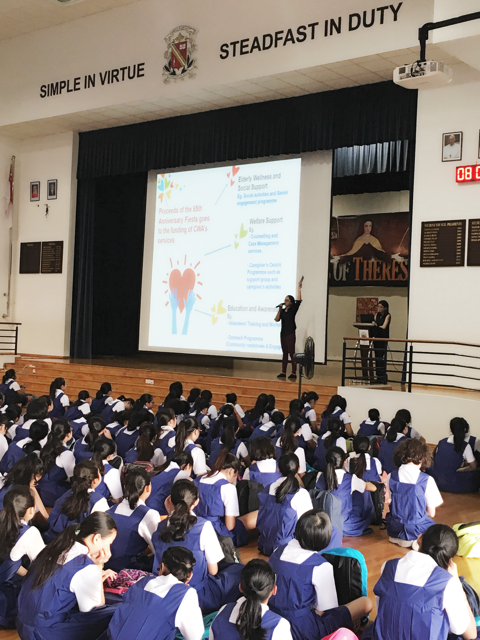 You may volunteer your time through our Community Outreach Programme (Direct Services):
- Organise festive or birthday parties.
- Organise social outings to places of interest
- Befriender to the elderly
- Interact through games and art and craft at our Centre
---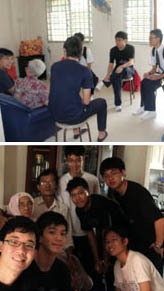 St Andrew's Junior College Class 10S09 Service Learning Project Lunar New Year Cheers
On this joyous occasion, Class 10S09 from St Andrew's Junior College shared their happiness with the less fortunate elderly. This project served two purposes:
To bring warmth and cheers to the many elderly in need of our care and support.




To raise awareness of the needs of the elderly and their caregivers through writing of their personal stories.



The students from Class 10S09 visited the elderly at their homes with New Year goodies and spent some quality time with the lonely elders.