| | | |
| --- | --- | --- |
| contact@cwa.org.sg | +65 6466 7957 / 96 | +65 6466 5927 |
CWA Caregivers' Week 2020
Thank You For Making CWA Caregivers' Week 2020 A
Success!

The Caregiving Welfare Association (CWA) would like to thank our kind sponsors namely, Aman Wellnes Pte Ltd, Cisco Webex, Extraordinary People Ltd, JTC Corporation (JTC), Lee Foundation, Rehab & Beyond Pte Ltd, Queenstown Public Library, SG Supernanny, Tan Chin Tuan Foundation, community partners and participants in making CWA Caregivers' Week 2020 a huge success!
It is only with societal support and awareness that we can give our seniors the grace and dignity to walk through their golden years, and for family caregivers to be well supported in their journey of caregiving.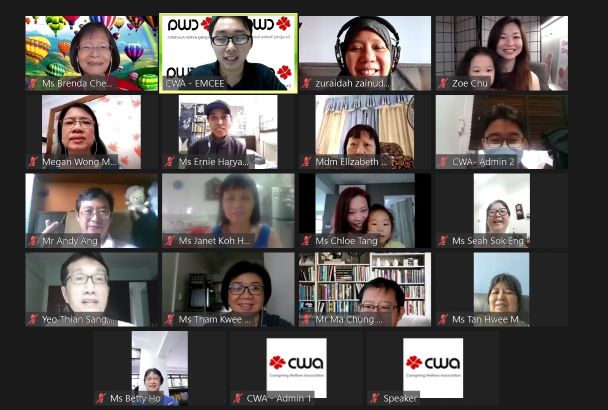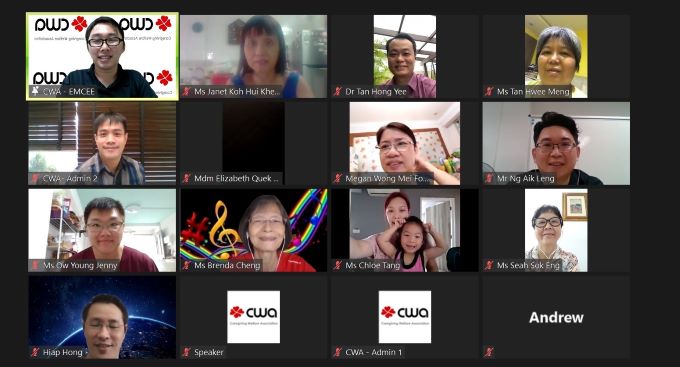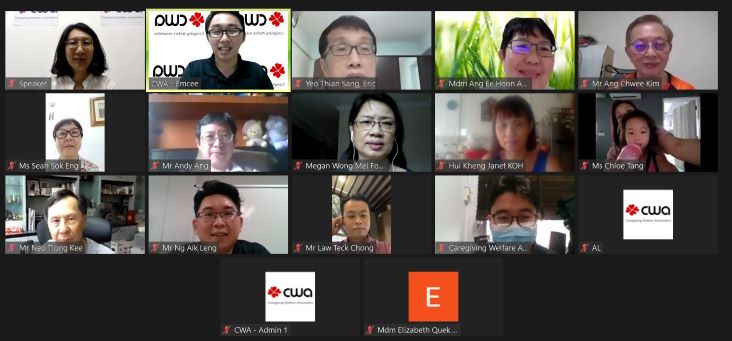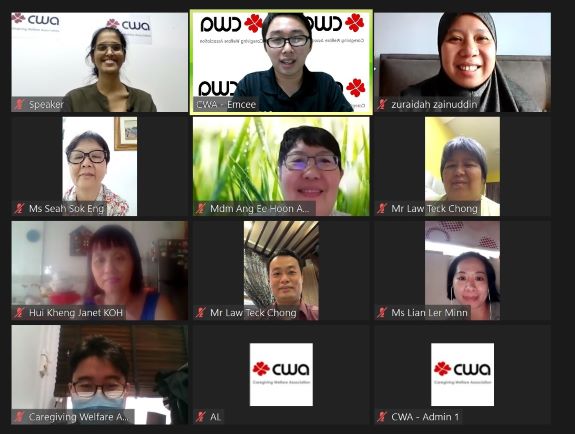 Thank you for sharing your smile with us on zoom!
'Dedicating to Self-care'
Caregivers often find themselves on the giving end and neglecting their own well-being in the process. Join us in our webinar session as our guest speakers share useful tips and knowledge that will help caregivers to look after themselves as they care for their loved ones.
CWA Caregivers' Week 2020 Webinar Sessions
Date: 7 Nov 2020, Saturday
Time: 9.30am to 12.15 (Part 1) / 1.15pm – 4.00pm (Part 2)
Platform: Webinar
Fee: Complimentary
To register for the webinar session(s), you can complete your registration via the QR code below or click here
Alternatively, you may contact us at 6466 7996/ 6734 2991 or email us at webinar@cwa.org.sg
Participants to Note:
- Registered participants will receive a link to the webinar session(s) one week before the event
- Kindly register before the 6 of November 2020
QR code for e-registration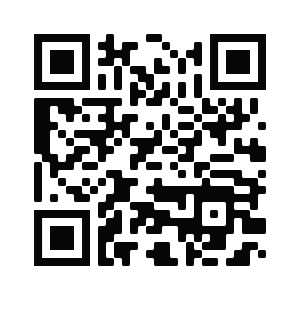 ______________________________________________________________________________________________________
Join our speakers at CWA Caregivers' Week 2020 webinar sessions
7 Nov, Saturday

Speaker 1
Topic: Upgraded Sleep For A Better Well-being
Webinar Time: 9.30am to 10.45am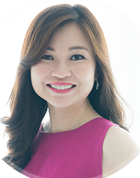 Speaker:

Ms Zoe Chu
Sleep Expert
Founder of SG Supernanny
Profile:
Zoe is the founder of SG Supernanny, a baby and adult sleep expert, author and speaker who has a mission to empower tired and sleep deprived families and also stressed out adults to get back their precious quality sleep. She has helped transformed the lives of thousands of families all around the world through her sleep programme.
Synopsis:
Sleep is an everyday thing, and we often hear of the importance of having an ample amount of sleep because of the consequential effects on our well-being. Having a good rest allows both our body and mind to repair themselves. However, family caregivers often find themselves in a position where they have insufficient sleep or do not feel well-rested because of the various stressors that arise from their caregiving. A poor quality of sleep will not only affect one's mental well-being, but also one's physical health which will impact on the quality of care provided for your loved ones.
Learning Outcomes:
Through this talk, family caregivers can be equipped with useful knowledge and tips on how to sleep better which is fundamental to one's well-being.
Speaker 2
Topic: Reconnecting and Revitalising with Music
Webinar Time: 11.00am – 12.15pm

Speaker:

Mr Jonathan "Jaytee" Tang
MA, MT-BC
Music Therapist – Board Certified
Extraordinary People Limited
Profile:
Jonathan received his music therapy board certification from the USA. He has experience in medical music therapy where he utilizes music therapy interventions to promote physical health and psychological well-being. Examples include: promoting neurodevelopment in premature infants, facilitating emotional expression in adolescents with mental health conditions, assisting with pain and symptom management for patients receiving palliative care, as well as supporting families during end-of-life and bereavement. Currently, he works in mental health and special education settings in Singapore. He is also an active researcher and has presented nationally and internationally on topics including cultural considerations for music therapy practice.
Synopsis:
"Music does a lot of things for a lot of people… It can take you right back, years back, to the very moment certain things happened in your life. It's uplifting, it's encouraging, it's strengthening."
- Aretha Franklin, American singer
Since ancient times, music has been recognized for its therapeutic value. Aristotle, a Greek philosopher, wrote that "flute music could arouse strong emotions and purify the soul." Music is a powerful tool that can be harnessed to reconnect with loved ones who are stricken with disease and to revitalize oneself from the struggles and stresses of everyday life. Through live demonstrations and experiences, this session will explore the power of music and introduce several music-based strategies that one can use to reconnect with loved ones and for one's own self-care.
Participants to note:
When attending this presentation, participants are strongly encouraged to use headphones or proper speakers so that you can have the best sound quality.
Learning Outcomes:
In this session, participants will learn about the therapeutic value and benefits of music. In addition, participants will also be introduced to several music-based strategies that you can use to reconnect with your loved ones, or for your own self-care.
Speaker 3
Topic: Self-care: 7 Ways to Take Better Care of Yourself Nutritionally
Webinar Time: 1.15pm – 2.30pm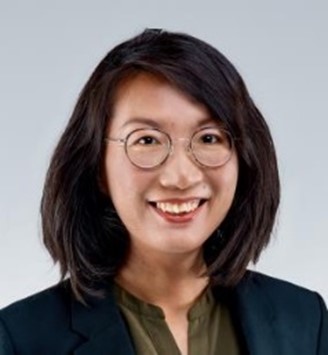 Speaker:

Ms Katherine Khoo
Nutritional Therapist
Aman Wellness Pte Ltd
Practicing License, (License No. MNMedP:017) with the Association of Nutritional Medicine Practitioner Malaysia (ANMP).
Qualifications:
- Anti-Aging, Metabolic and Functional Medicine, American Academy of Anti-Aging Medicine.
- Integrated Cancer care, Australasia College of Nutritional and Environmental Medicine, Australia.
- Functional Diagnosis and Functional Blood Chemistry Analysis by Dr. Dicken Weatherby.
- Professional Diploma in Nutritional Medicine, Plaskett International College.
- Diploma in Nutrition, Plaskett International College.
Profile:
Katherine is a nutritional therapist with more than 7 years of clinical experience. She practices primarily in Singapore and Malaysia, but also has clients from Hong Kong and Indonesia.
Her primary training is in Nutritional Medicine. She is also trained in Functional Medicine and Functional Blood test analysis. Katherine also specialised in cancer and hormone related health conditions like pre-menstrual tension, fibroids and weight issues caused by hormonal imbalances.
As a Nutritional Therapist, she uses nutrients (via supplementation and dietary changes), to prevent, manage or reverse chronic diseases. She believes in a holistic approach, and work with other therapists like physiotherapists, fitness instructors, acupuncturists, herbalist and medical doctors to help my clients achieve wellness.
Synopsis:
Caregivers are busy people. Many caregivers often feel overwhelmed and tired and don't take enough time to eat right. The best way for caregivers to increase their strength and energy levels for their busy day is through good, balanced nutrition.
Here, we share 7 Micro-Habits, easily incorporated into any busy schedule. Making small changes can make a big difference, and the health benefits are worth the effort. You need to take good care of yourself, to be able to give care to others.
Learning Outcomes:
Participants will be able to put these 7 Micro-Habits into practice immediately. Micro-Habits are actions that require minimal effort, something that can be completed in 5 minutes or less, and big enough to change one's life.
Speaker 4
Topic: Optimising One's Physical Well-being while Providing Care
Webinar Time: 2.45pm – 4.00pm
Speaker:

Ms Shameera
Senior Physiotherapist
Rehab & Beyond Pte Ltd
Qualifications:
- Bachelor of Science in Physiotherapy from The Trinity College Dublin
- NDTA™ Neuro-Developmental Treatment Association
- Certified in Dry Needling
- ASCA level 1 Strength and Conditioning Coach Accreditation
Profile:
Shameera graduated from The Trinity College Dublin with a BSc in Physiotherapy [HONS]. Having worked in both public hospitals and private clinics, Shameera has gained a plethora of experience in treating both neurological and musculoskeletal conditions. Her rotations in the public sector gives her the confidence to treat her clients in these areas effectively.
As a physiotherapist, Shameera hopes to promote her clients' quality of life by actively involving them in the rehabilitation process. She does this by educating and setting realistic goals with them. She combines therapeutic exercises with manual techniques to improve her clients' mobility and therefore helping restore function.
Synopsis:
Straining your back while caring for your loved ones? Join Shameera from Rehab & Beyond to learn about caring for yourself while you care for others. She will also bust some myths and shed light on evidence-based strategies to manage your own well-being as a caregiver.
Learning Outcomes:
Participants will learn proper techniques and strengthening exercises to optimise your own health while assisting your loved ones.
____________________________________________________________________________________
We seek your kind support towards our cause
CWA requires $510,000 annually to sustain its programmes and services for those who we serve, and to maintain our daily operational cost
Your kind support will go a long way
All contributions, big or small, count towards the sustainability of our programmes and services
All outright donations will be tax-deductible
To find out more how can you help, please click
Here
____________________________________________________________________________________

MORE INFORMATION ON PAST CWA CAREGIVERS' WEEK
Click
here
to find out more about CWA Caregivers' Week 2019
Click
here
to find out more about CWA Caregivers' Week 2018
Click
here
to find out more about CWA Caregivers' Week 2017