| | | |
| --- | --- | --- |
| contact@cwa.org.sg | +65 6466 7957 / 96 | +65 6466 5927 |
CWA
> CWA >
Spotlight
> Thank you for making CWA caregivers' week 2017 a success! - We look forward to CWA caregivers' Week 2018                   
Thank you for making CWA caregivers' week 2017 a success! - We look forward to CWA caregivers' Week 2018                   
Celebrating the Spirit of Caregiving at the CWA Caregivers' Week 2017! 
Sponsors, Supporters and friends of CWA,
We had a month of fulfilling activities for the CWA Caregivers' Week ranging from outings, yoga, symposium, talks, crafts activities and many others.
A special thanks to all our sponsors:
BinjaiTree

FairPrice Foundation

Fitness First

Kwan Im Thong Hood Cho Temple

Lee Foundation

Lee Recycling

Singapore Press Holdings
Venue Sponsors
One Raffles Place

Bukit Merah Library

National University Hospital / National University Health System
Supported by
The Research Partnership

Westwood Secondary School

UniSIM
Lastly, we would like to thank all the volunteers for their help throughout. Without them the event will not be a success!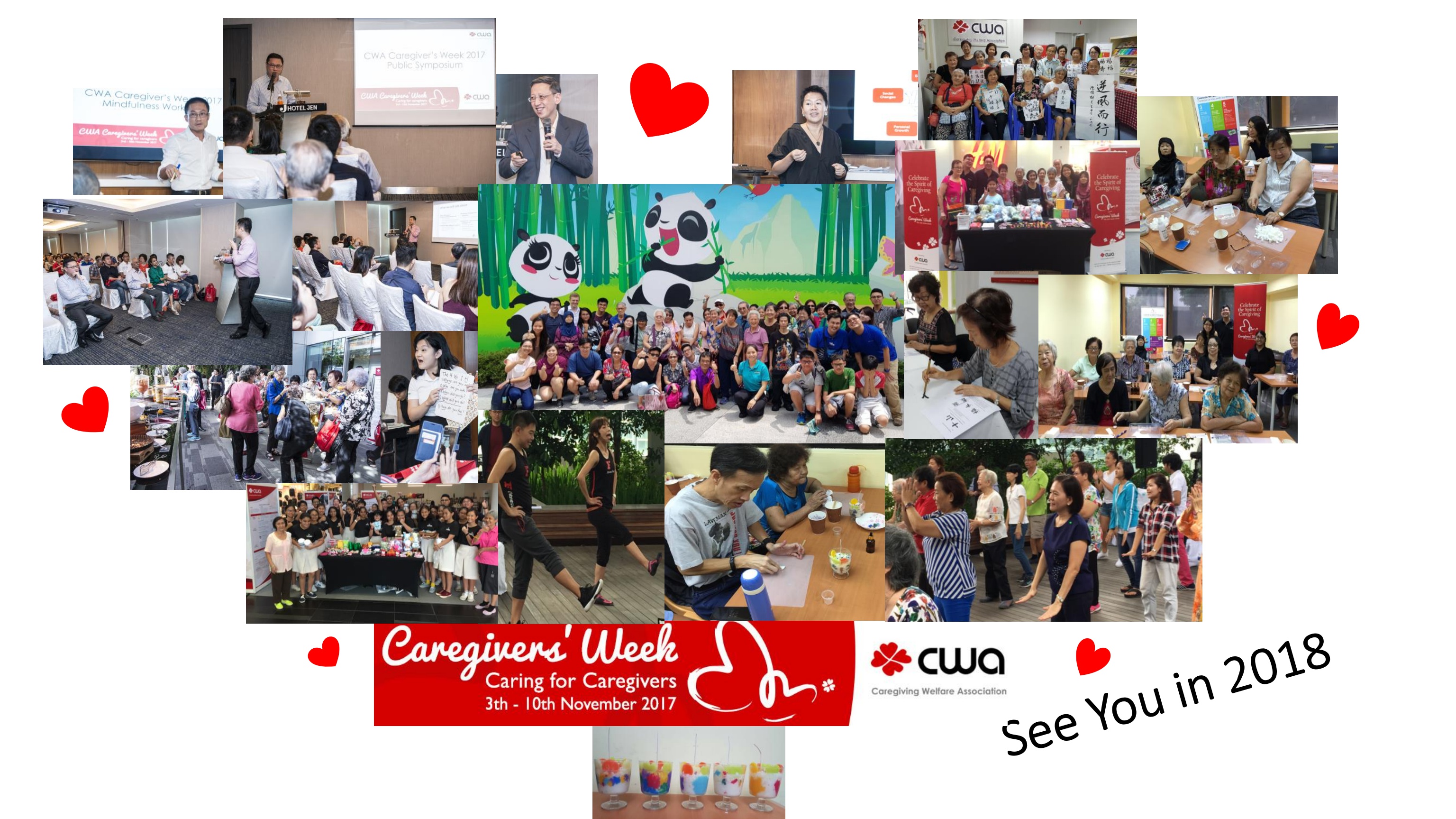 Looking back at CWA Caregivers' Week 2017

Activities for

CWA Caregivers' Week 2017


Building on last year's theme "No One Cares Alone", CWA hopes to further advocate its support for caregivers this year with the theme "Caring for Caregivers". Our objectives include raising public visibility of caregiving and equipping caregivers with the necessary knowledge and skills for their caregiving role. We intend to achieve this through a series of activities, which will be held over the week-long campaign.
Public Symposium & Workshops
Details of the Symposium Date:
5 November 2017, Sunday Time:
1315hrs to 1700hrs Venue:
Hotel Jen (Orchard Gateway) Phoenix I, II, III Admission Fee:
$15 per person and $25 for two persons (*Inclusive of light refreshments and a goodie bag)
Highlights Keynote speech 1
(Conducted in English) Dementia: Helping You and Your Loved Ones Plan Ahead by Dr Tan Hong Yee, Psychiatrist In this talk, Dr Tan will touch on what we know about dementia so far, and its treatment options. In particular, he will discuss the various stages in the progression of dementia and what persons with dementia and their family can expect in terms of changes in their symptoms and daily function. A prior knowledge of what to expect is important, so that patients and their families can monitor for changes over time, and also allow us to plan for the future. Finally, Dr Tan will share some pointers and past experiences in behavioural or non-medication approaches to managing the Behavioural and Psychological Symptoms of Dementia (BPSD).
Keynote speech 2
(Conducted in Mandarin) Management of Chronic Illnesses and the Role of Caregivers by Dr Leong Choon Kit, Family Physician In Nov 2016, it was reported that one in four Singaporeans above the age of 65 developed a chronic condition. With these numbers expected to rise significantly by 2030, the role that caregivers play can be expected to become increasingly important as well. For this talk, Dr Leong will share about the role that family caregivers play in managing chronic illnesses. He will also speak about family medicine and the importance of medication compliance. _________________________________________________________________________________________________________ Workshop 1 - Mindfulness For Caregivers by Dr Choo Wei Chieh (Available for 30 participants) Mindfulness is the deliberate practice of being in the present moment. Today, mindfulness has been applied in many settings including healthcare, education and in corporations. In this session, Dr Choo will introduce key concepts of mindfulness through interactive discussions and practical exercises. The session will focus on how mindfulness can be applied in caregiving.
Workshop 2 - Stress Release Through Art by Jeanette Chan (Available for 30 participants)
The aim of this workshop is to facilitate emotional wellbeing of caregivers through understanding themselves and stressful situations that affects them. Through this workshop, Ms Chan will lead participants through a breathing and guided imagery relaxation exercise to experience how to respond positively to life's stress.
Workshop 3 - Reminiscence therapy: how to use your old photos to create meaningful and cognitive stimulating reminiscence conversations by Ms Regina Phang (Available for 20 participants)

Come and experience how to use old photos to stimulate memories and create meaningful talking points as part of reminiscence therapy. Bring along favourite old photos of yours or your loved ones for this hands-on event by Ms Phang
_______________________________________________________________________________________________________
CWA is looking for Partners, Donors and Sponsors to make Caregivers' Week 2018
Partnership Opportunities
Caregiving Welfare Association is looking for corporations and passionate individuals to partner us for our CWA Caregivers' Week 2018 and take part in our activities. Please
e-mail us at contact@cwa.org.sg for more information
.
Donors and Sponsorship
Caregiving Welfare Association is appealing to kind sponsors (both individuals and corporations) to support our initiative. No donation is too small in helping us to go a long way in helping the needy in our community.
Through CWA Caregivers' Week 2018 and other fund raising initiatives, CWA hope to raise $450,000 this year to help sustain our programme and services.
We request that all donations be made directly to the "Caregiving Welfare Association". Do indicate "CWA Caregivers' Week 2018" on the back of your cheque and mail it to: Caregiving Welfare Association Blk 3 Ghim Moh Road #01-294 Singapore 270003 All outright cash donations are eligible for 2.5 times tax deduction.
Organised by: 

Supported by: 
(2017 - CWA Caregivers' Week Sponsors)